At Sunflower Pest Solutions our Mission Statement is: "Dedicated to providing professional and safe pest management services." We enjoy solving problems, and that is why our motto, or tagline is "There Are No Problems… Only Solutions"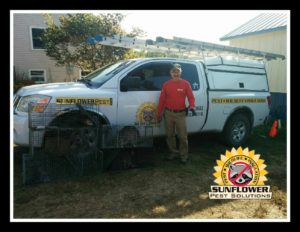 Our Business
Our Business
I would like to take this opportunity introduce my business and myself to you. I am Tim Dinneen owner of Sunflower Pest Solutions Inc. I have 20 years experience in Professional Pest Management, and 25+ years experience in Wildlife Control. I began my work in pest management by working for Overland Park Animal Control from 1994-1998. At this time I also volunteered with the Shawnee Fire Department as a Fire Fighter and EMT. I then worked for the Gardner Department of Public Safety where I had the shared duties of police officer, firefighter and EMT. During this period I also had duties in wildlife management. I then moved to California and started a large wildlife control firm where I remained for the next three years before returning to Kansas in 2003 where I helped manage a large wildlife control firm. In 2005 I started Sunflower Pest Solutions Inc.
Sunflower Pest Solutions Inc. is a full service pest management company, and we handle general pest control issues such as ants, spiders (brown recluse), fleas, millipedes, silverfish, termite control, stinging insect control, rodent control, etc. We install Attic Insulation, remove contaminated insulation, and foam insulate rim joists in basements. We also offer green pest control solutions that limit the amount, type and placement of pesticides to target specific pests while keeping your family safe. We pride ourselves in providing fast response, effective service and full follow-ups to ensure that our job has been accomplished to your satisfaction.
Sunflower Pest is a proud member of:
Kansas Pest Control Association

National Pest Management Association

Pest Management Association of Greater Kansas City (Served on Board for 13+ years in every position from member at large to President)
Customers Attention, Customer Retention and Customer Service
We are a customer driven and customer supported company We are dedicated to:
To protecting the health, safety, and security of our customers and communities

To protect against pest intrusion or invasion and prevent any re-occurrence

To stay on the cutting edge of the industry

To respond to changes in the industry

To show equal respect for customers, management, and fellow employees

To maintaining the most progressive, safe, and detailed services possible.

To explaining our protocols and service prior to or directly following each service

To listening fully and prepare diligently before, during and after service.
We stress:
A fast and thorough response to all customers and potential customers

Listening and responding to customer feedback

Maintaining the highest level of professionalism with our customers, employees, and others in the field.

Making every customer feel unique and welcome

Show customers appreciation and gratitude during each and every opportunity
Organizational Values:
We trust and respect all individuals

We exercise honesty and integrity

We encourage innovation, flexibility and insight, while maintaining goals and objectives

We encourage the input of employees

We believe in ongoing training, program revision, and education to maintain the highest level of service

We believe in setting short-term and long-term goals

We believe in listening to and responding to employees

We encourage community involvement

We include employees in our decision making efforts

We focus on achievements and reward high levels of achievement and contributions by our employees
We believe in an approachable, open and honest environment that may be used to:
Share ideas, review changes, review goals

Discuss any problems, frustrations, or hindrances

Discuss your role, your career, and your future with the company and outside of the company

Track your progression and development within the company
Kansas Pesticide Business License # 5664
Free Consultation – No Obligation – 100% Satisfaction Guarantee
Call us at 913-244-3682 or 785-393-4116