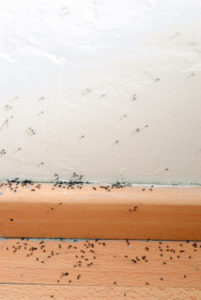 What makes Sunflower Pest Solutions different than other pest control companies?
Sunflower Pest Solutions is a family owned business (which means you are not a number to us, we care about you)
Locally owned (Means you never have to wait for an answer from "Corporate").
Local Service, Quick response time compared to corporate chains.
Focused on individual-custom programs designed for:
        You & your family,
        Your home or business,
Resolving your pest issues in the manner you wish such as:
        Minimal chemical
        "Green" products
        We can even do the, "drop the napalm on em" solution
Certified in Kansas & Missouri in General Pest Control.
Certified in Kansas & Missouri in Termite Control (This is a different certification).

Member of:
National Pest Management Association (NPMA)
Kansas Pest Control Association (KPCA)
National Wildlife Control Association (NWCOA)
Board member on the Pest Management Association of Greater Kansas City (PMAGKC)
Sunflower Pest carries $1,000,000/$2,000,000 Commercial General Liability Insurance (State only requires $25,000).
Stinging Insect experts
Wildlife Management services offered
Integrated Pest Management(IPM)- We look for the source of the problem, not just a quick fix.
Trustworthy, you can trust us in your home or business.
Personally trained by industry leader Dr. Jamel Sandidge, in the remediation and control of Brown Recluse Spiders, who wrote the book on Brown Recluse Spiders (www.brspest.com)
We stand behind our service, every time!!!  100% Satisfaction Guarantee!!!